Free US Shipping + 30 Day Money Back Guarantee
Prepare and Care for Your Winter Skin! 
The leaves have started falling, the air is cooler, and there's that smell of rain all around. Magical and all – what does it mean for your skincare? While it usually implies that you don't have to worry about sunburns as much, there are other concerns you should take into account. Winter skin is definitely not a cool thing to have. 
But what is winter skin, you might ask? Due to the cold air and the humidity levels dropping, liquids evaporate more easily and quickly. When it comes to your skin, it means that the natural moisturization and hydration levels of your skin are hindered and so is your natural oil production. The result? Dry, flaky, and tighter skin. And nobody wants that. Thankfully, we've created this guide so you can prepare your skin – winter skin is coming! 
You're Hot, Then You're Cold
One of the most common mistakes that people make during winter is cranking up the thermostat. We know that it's freezing outside, and we all want to snuggle warm and cozy. But the constantly changing temperatures, and the differences between the cold outside and the heat inside, end up harming your skin and leaving it dry. You would have to repeatedly moisturize your skin, only to have it dehydrate again. 
The best way to handle this is by setting your thermostat to between 70°F to 74°F (20°C – 23°C) – a comfortable temperature that would keep your skin healthy. You could do a couple of more things to make sure that your skin is well-balanced. For instance, you can invest in a quality humidifier or a steam machine. Both will restore the humidity that the indoor heating has sucked dry. As long as you track the temperature of your surroundings and maintain your skin's moisture, you'll be one step closer to avoiding winter skin. 
Sensitive Sweater-Skin 
As we're trying to warm up, we wear thicker and rougher fabrics, all of which rub against our skin when we wear them. This goes for any turtleneck sweater, high-collar jacket, or woolen scarf you might like to wear. But truth is, those fabrics that repeatedly brush against your skin are robbing it of its natural sebum levels and leaving it especially irritated and drier than ever. 
So, take some fashion advice from us – it'll only do good for you and your complexion. Choose natural fibers, that include cotton and silk. Avoid synthetic fabrics and rough wool. But if you have to wear those scruffier fabrics, make sure that they're thoroughly cleaned. Just imagine wearing a woolen scarf that rubs against your skin, over and over again for weeks. It would not only dry it further, it would also introduce new bacteria to your skin. 
Not Just for Women 
Cracked and dry lips is yet another unfortunate side effect of the cold weather outside. Aside from their unappealing look, they also pose great discomfort, as they can itch, sting and even bleed. However, having supple luscious lips doesn't have to be your summer look, there are things you can do to make sure that lips stay moisturized. 
The American Academy of Dermatology recommends applying a chapstick or lip balm enriched with healing and enriching ingredients such as shea butter and natural oils. They strongly suggest avoiding any products that contain different fragrances or toxic and harsh chemicals. The chapstick should be applied throughout the day and mostly before you go to sleep. Just avoid biting or peeling the dry skin off your lips. 
The Moisture Behind the Mask 
After you've focused on prevention it's time to infuse and nourish that winter skin and restore the lost moisture. There are several ways in which you can replenish your skin and hydrate it. They include hydrating from within with water and the right kind of diet as well as maintaining a steady skincare routine. But colder times require new methods. Offer your skin the extra moisturization it might have lost. 
We're talking about a potent and healthy mask (and not the kind that protects you from Covid19). Particle's deep-cleanse clay mask is the cherry on top of your new moisturization regimen. We recommend applying it once a week on your facial winter skin and enjoy its enriching therapeutic benefits. The mask contains aloe vera and bentonite clay that keep the skin hydrated and soothe it from any possible skin irritation. But perhaps more importantly for the winter, the mask, engineered especially for men, moisturizes the skin and firms it up. No flakes, no skincare mistakes.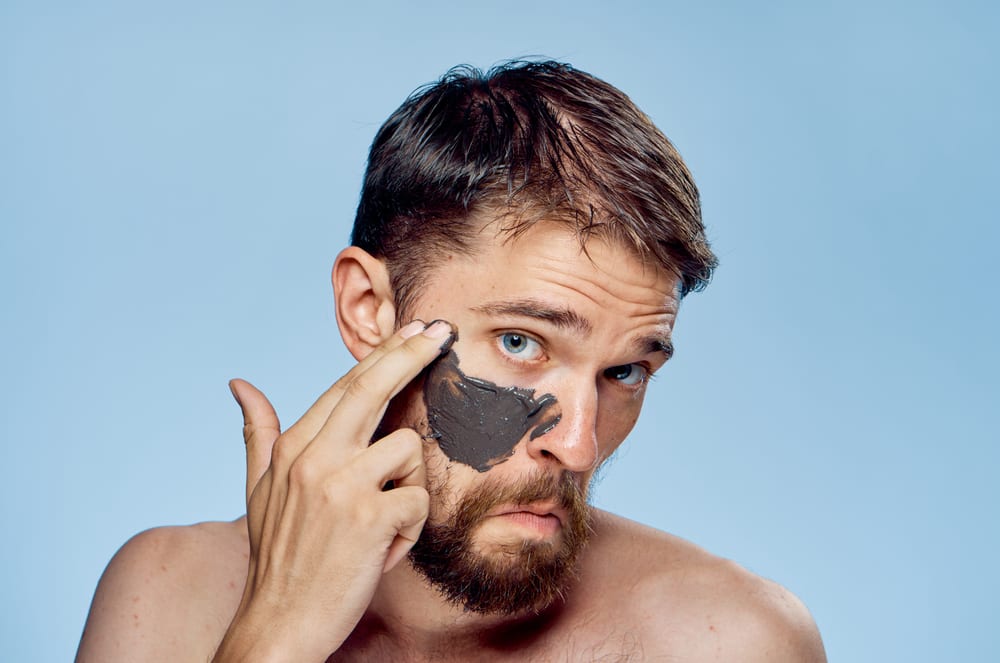 Hydrating All-Year Round
While it's true that winter poses a special kind of challenge to your skin, hydration should be something to consider all year long. Due to repeated shaving and the wrong kind of skin habits, men suffer from dry skin quite a lot. This is precisely why this guide is crucial for you. The sooner to prepare and care for your skin, the more likely you are to prevent dry skin, irritation, and even possible inflammation.