Free US Shipping + 30 Day Money Back Guarantee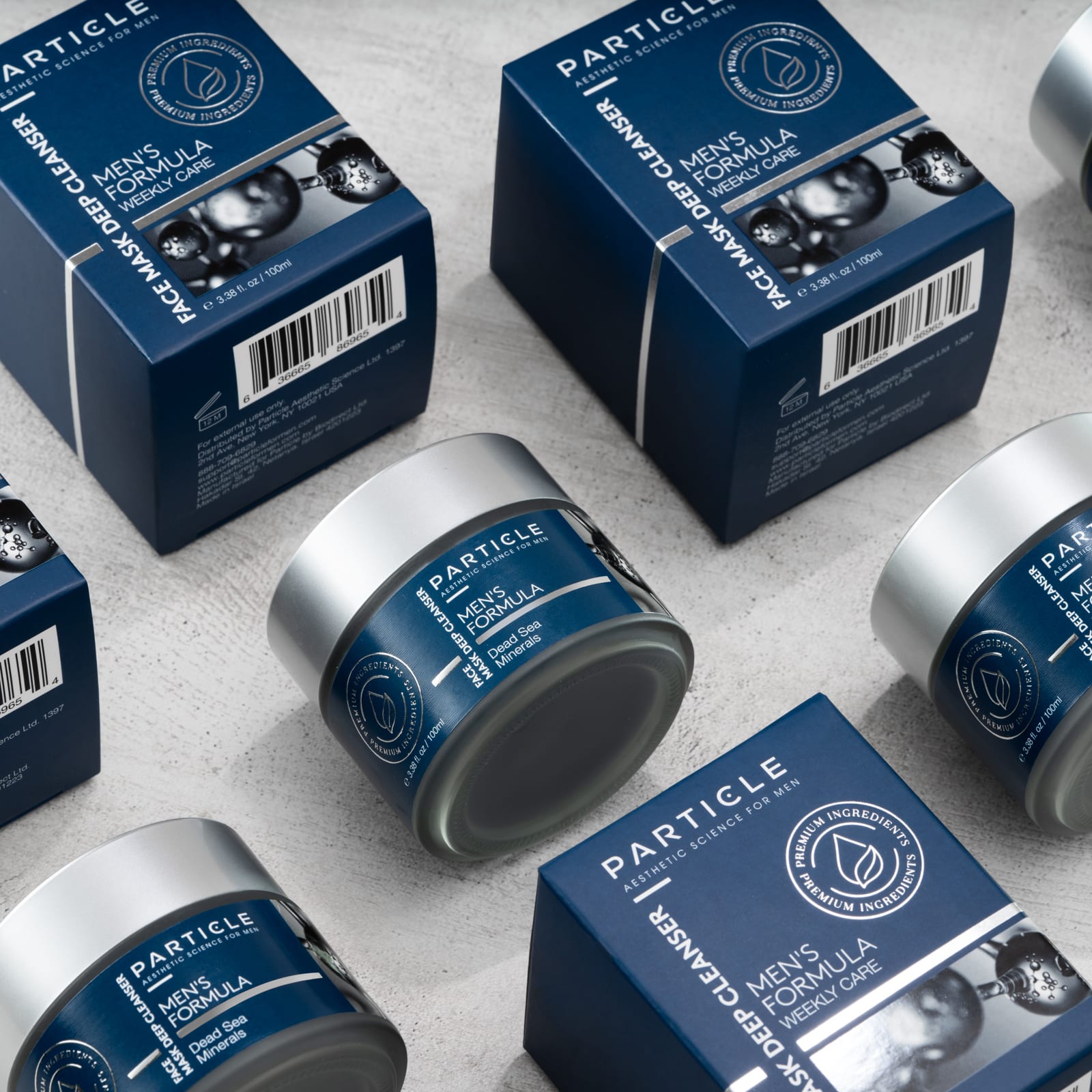 Weekly face mask for deep cleansing
Particle's mineral face mask utilizes premium ingredients to perform a deep skin cleanse. It's specifically engineered for men and
made with mineral-rich mud enhanced by active Dead Sea ingredients.
Fights Acne
Reduces blackheads
Reduces pore visibility
Fades blemishes
Draws out skin dirt
Firms up the skin
3Units
You Save: $39
2Units
You Save: $20
1Unit
30 Day Money Back Guarantee

Free US Shipping /
$9 International
Fresh and Youthful Skin
Reduces
Blackhead Visibility
Helps Reduce
Visibility of Pores
Helps
Fight Acne
Draws Out
Skin Dirt
Firms Up Appearance
of Skin
Reduces Appearance
of Blemishes
Detox
Your Face
How to use it
Cleanse
Cleanse your face thoroughly before using the face mask.
Apply
Apply a thick layer evenly over your forehead, cheeks, nose and chin, while leaving the skin under the eyes exposed.
Wash
After 10 minutes rinse your face with facial soap and spread a moisturizing cream, preferably Particle's 6-in-1 Face Cream. For best results use once a week.
Premium Ingredients
Charcoal Powder

Draws out bacteria, dirt and chemicals
Minimizes pores

Bentonite Clay

Absorbs oils and bacteria
Prevents breakouts and rashes

Aloe Vera

Hydrates and reduces skin inflammation
Replenishes skin with vitamins and minerals

Panthenol

Hydrates skin
Calms and soothes irritated skin

Kaolin

Natural detoxifier and exfoliator
Soothes and tones skin
This is my first experience with Particle and the mask really seems to be making a difference to the wrinkles on my face!
Will Holladay
53, Chicago IL
[*Individual results may vary]
Been using Particle for a little over a month. This stuff is great, it has really improved my complexion and my wife says my skin is much smoother!
Renato Garcia
43, Santa Barbara CA
[*Individual results may vary]
My skin looks healthier and tighter and got compliments after about a month of usage.
Anton Vetzner
48, Houston TX
[*Individual results may vary]
I have been using Particle for several months and have noticed a great improvement in the texture of my skin.
Gary Heath
60, Boston MA
[*Individual results may vary]
I noticed a slight difference the first week I used it. By week three, I was very impressed.
Walter Benson
40, New York NY
[*Individual results may vary]
faq
Who is Particle's Face Mask for?

The mask is intended for use by all men. No matter what you skin type is, men in their 30's, 40's', 50's and 60's should use a deep cleansing mask once a week. The face is one of the most exposed parts of our bodies and dirt accumulates under the skin even if not visible. The deep skin cleanse mask is intended to penetrate deep into the skin to draw out toxins and dirt.

How does the face mask differ from Particle's Face Cream?

Particle's Face Cream is an anti-aging cream for daily use. The face mask is more "intensive" and goes deeper under the skin which is why you shouldn't use it more than once a week.

What do Dead Sea minerals do?

Dead Sea minerals strengthen skin tissue and provide protection against environmental hazards.
More Products for You
$69
per unit
Particle Face Cream
Our flagship product. Particle Face Cream is a radical innovation in men's skin care, a 6-in-1 anti-aging cream that provides a full facial treatment for men intended for daily use.
$29
per unit
Particle Face Wash
Particle's Face Wash Cleanser washes away dirt, leaving your skin fresh and clean. It removes oil & grime, hydrates, exfoliates and rejuvenates your skin.