Free US Shipping + 30 Day Money Back Guarantee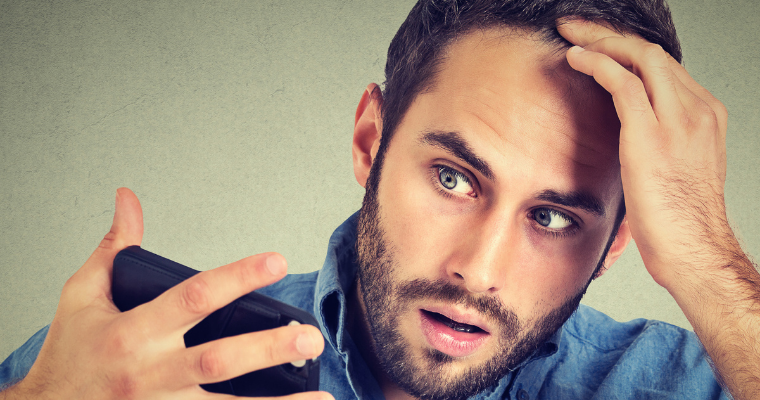 How Particle's Shampoo for Men Can Stimulate Hair Growth
Aging is something that none of us can avoid. What you can control however, is how gracefully you do it. From wrinkled or saggy skin, all the way to your sore muscles and hair loss; there are effective solutions to address almost all signs of aging. That being said, hair loss in men remains one of the most prominent issues, with about 85% of men experiencing hair thinning before the age of 50. So the question of how you can stimulate hair growth has remained unanswered – until now. 
After having created a line of successful skincare products designed especially for men, Particle is now addressing one of the greatest issues: your hair (or at least, how you can keep it). But first, let's answer the all-time question: Why do men lose hair? What are some of the causes that increase hair thinning? And last but not least, can you avoid that dreaded baldness? 
From Bushy to Bald 
The truth is that most men will experience hair loss at some rate or another. In fact, for some, this process starts as early as their twenties. There is no doubt that this is a natural process. And yet, there are countless myths surrounding the reasons for hair loss. For instance, certain speculations suggest that using shampoo can increase hair loss (that is, any type of shampoo). Others, blame your cap-wearing habits, and claim that hats can actually promote hair loss. Another urban myth, assumes that you should blame direct sunshine and claims that sun exposure harms the hair follicles. 
As you've guessed, none of these have a shred of truth to them. One theory that blames your mother's genetics for your hair loss, is however, partially true. That is, genetics play a big part in your baldness, but you didn't inherit it from one side of your family. In fact, the only two causes for baldness that can be confirmed are: aging and genetics. And theoretically speaking, there's not much you can do about those. Or is there? 
Man Up Your Mane 
Since this is indeed such a widespread problem, it has a number of solutions of varying levels of effectiveness. First, of course, you should have a couple of tests, such as different blood tests, to ensure your body isn't missing important nutrients. Sometimes, even a minor change of your diet can lead to great results. You should also increase your water intake, to improve your natural blood circulation. This would result in smoother cell rejuvenation which might in turn promote hair growth. 
But even if you do change your habits, no process can be complete without some extra help. We don't mean that you should rush and get a hair transplant surgery or laser therapy. Instead, we're talking about a good shampoo that is meant to stimulate hair growth and was designed for men is definitely a great way to go. But how does it work? How is it applied? And how can it help you? 
The Shampoo For You 
Particle's hair shampoo was designed with all the facts mentioned above, knowing exactly what men need. Essentially, it was engineered to stimulate hair growth while strengthening the existing hair (which simply needs to be preserved). The latter happens in several ways, as the shampoo; increases hair thickness, enriches hair follicles; soothes and nourishes the scalp, and strengthens the roots. We know that all these may seem like mere promises, so we'll explain the science behind it. 
The secret of course, lies in the ingredients and formula. So, let's take a peek, shall we? 
Trust Us, We're Professionals 
Now that we've revealed all our secrets here's the last one: Particle's shampoo is for everyone. You'll be shocked to hear that 25% of men start losing their hair before the age of 21 (!) Things only get worse as you age. Add to that the fact that your body naturally produces less collagen (making the skin drier and flakier) and what you end up with is baldness and dandruff. Both of which, we can agree, are undesirable. That is why we recommend to start using Particle's shampoo even if you haven't seen significant baldness. Preventative measures are always most effective. 
If you're wondering how to use the shampoo – that's fairly easy. Use it in the shower of course! Make sure to apply it to wet hair and then rinse with lukewarm water. Hot water can rob the skin of its natural oiliness and weaken the existing hair follicles. If you're going to have more than one shower a day (after a gym practice for instance), you can safely use Particle's shampoo again. You can't be too safe when it comes to hair loss. Take it from us – science and experience are always a winning combo!