Envío Gratis a Estados Unidos - Garantía de devolución del dinero por 30 días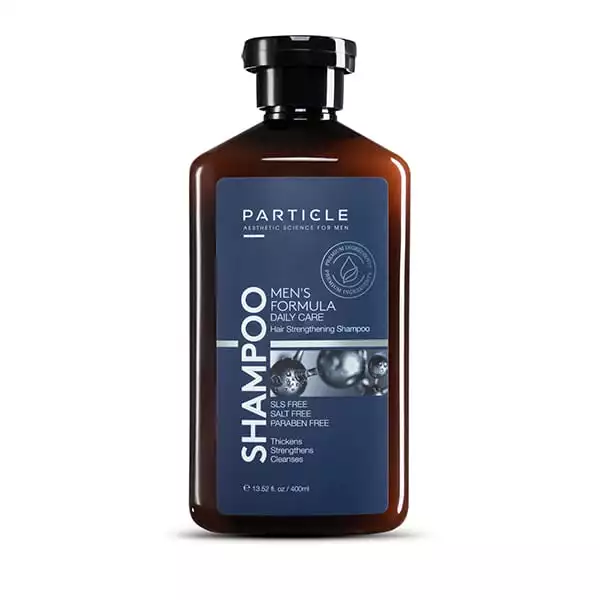 Particle Hair Shampoo
Strengthens and stimulates hair growth.
By using powerful ingredients such as Capixyl, Ginseng, Biotin and Green Tea Extract, Particle's shampoo strengthens the hair and its roots, and stimulates the scalp for increased circulation.
1 unidad
2 unidades
$21
por unidad (total $42)
Salvar $6
3 unidades
$19
por unidad (total $57)
Salvar $15
Garantía de Devolución del Dinero por 30 Días

Envío Gratis en EE. UU. /
$9 Internacional
A Strong Head of Hair
Increases hair thickness and volume
Toughens hair follicles and protects scalp
Fits all hair types
Strengthens roots
SLS Free /
Salt Free /
Paraben Free
Strengthen your hair
Ingredientes Premium
Capixyl

Peptide used to treat hair loss and invigorate hair growth

Redensyl

Reactivates hair follicle stem cells
Stimulates growth of thicker hair

Ginseng

Antioxidant reducing inflammation
Increases blood circulation

Biotin

Essential nutrient which improves hair's health

Green Tea Extract

Supports healthy hair growth and regrowth
This product has done wonders to my hair. I highly recommend it to my fellow thinning haired men.
Max Ringler
58, Cincinnati OH
[*Los resultados individuales pueden variar]
I have really enjoyed my Particle experience so far. I can already see a difference.
Matthew Belver
53, Miami FL
[*Los resultados individuales pueden variar]
My hair just started thinning out a couple of years ago so I started using Particle religiously.
Igor Resnik
36, Scarsdale NY
[*Los resultados individuales pueden variar]
Of course I was skeptical, but after using Particle for a couple of months it does as it promises.
Jose Cruz
44, Las Vegas NV
[*Los resultados individuales pueden variar]
One word, amazing!
Matteo Barrile
54, Hollywood CA
[*Los resultados individuales pueden variar]
Preguntas frecuentes
Who is Particle's Shampoo for?

If you're suffering from slightly thinning hair to advanced hair loss then Particle's hair shampoo is for you. The product includes hair stimulating ingredients such as Capixyl and Redensyl.

How often should I use it?

Particle Shampoo can be used once to twice a day. No special instructions, just use it as you have been using all your other shampoos.

¿Cuánto me durará una unidad?

One bottle of the shampoo will last approximately two months.
Más productos para ti
$24
por unidad
Particle Body Wash
Particle's Body Wash uses high-grade Dead Sea minerals to deep cleanse your skin while keeping it moisturized, energized and smelling fresh.
$69
por unidad
Crema Facial Particle
Particle es una innovación radical en el cuidado de la piel masculina. Utilizando tecnología de punta combinada con ingredientes de gran calidad, prepara el camino hacia una complexión linda y saludable.‏