Free US Shipping + 30 Day Money Back Guarantee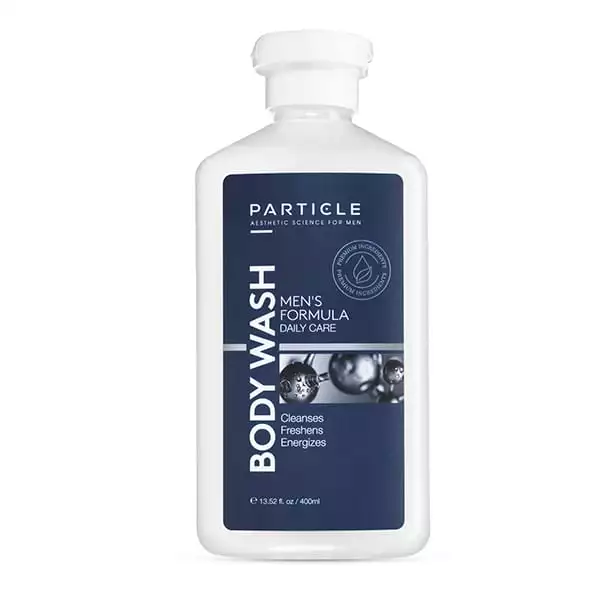 Particle Body Wash
Particle's Body Wash uses high-grade Dead Sea minerals to deep cleanse your skin while keeping it moisturized, energized and smelling fresh. Minerals such as magnesium, sodium and potassium enhance your skin without drying or irritating it.
3Units
You Save: $15
2Units
You Save: $6
1Unit
30 Day Money Back Guarantee

Free US Shipping /
$9 International
Feel Clean & Fresh
Deep cleanses without drying
Invigorates and energizes
Keeps you smelling fresh all day
Fits all skin types
Treat Your Body with the Best Minerals on the Planet
Dead Sea Minerals
Our skin requires optimal amounts of various minerals to function properly. The Dead Sea consists of multiple minerals, some of which are rarely found in nature. These unique minerals are known across the globe for their health and beauty benefits.
My skin has never felt better in such a short amount of time.
Richard Maley
39, Boston MA
[*Individual results may vary]
I love Particle products, been using the Face Wash, Face Cream and Body Wash on a daily basis.
Dion Mercer
41, Phoenix AZ
[*Individual results may vary]
I love your products. Super simple to use... great for men.
Edgar Romanov
57, Babylon NY
[*Individual results may vary]
The formulation is unique to men's skin care needs and this has become part of my routine.
Sachin Rao
49, San Francisco CA
[*Individual results may vary]
I love the way it feels and it's helping my skin look fresh again, great product.
Blayne Renshaw
53, Calgary AB
[*Individual results may vary]
faq
Who is Particle's Body Wash for?

If you shower then this is for you. Particle's Body Wash can be used by all men of all ages with all skin types, whether dry or oily. This product is a step up from the washes and soaps out there, you'll feel the smoothness immediately.

How does this body wash differ from other products?

Particle's Body Wash is infused with Dead Sea minerals. Dead Sea salts are characterized by their unique chemical composition including calcium, potassium, magnesium, zinc and sulfur which are known for their vitality to the body skin and their ability to purify and cleanse. Dead Sea salts are natural moisturizers that are essential for maintaining healthy, soft and supple skin.

Does it treat skin conditions?

Dead Sea salt helps strengthen skin tissue, improve blood circulation, eliminate toxins and balance the skin's natural PH levels. Dead Sea salt can also help to treat eczema by exfoliating dead skin cells, rehydrating the skin and restoring depleted minerals.
More Products for You
$69
per unit
Particle Face Cream
Our flagship product. Particle Face Cream is a radical innovation in men's skin care, a 6-in-1 anti-aging cream that provides a full facial treatment for men intended for daily use.
$24
per unit
Particle Hair Shampoo
Particle's hair strengthening shampoo uses powerful hair growth ingredients to increase hair thickness and volume, strengthen roots and protect the scalp.