9 USD Livraison en France + garantie de remboursement de 30 jours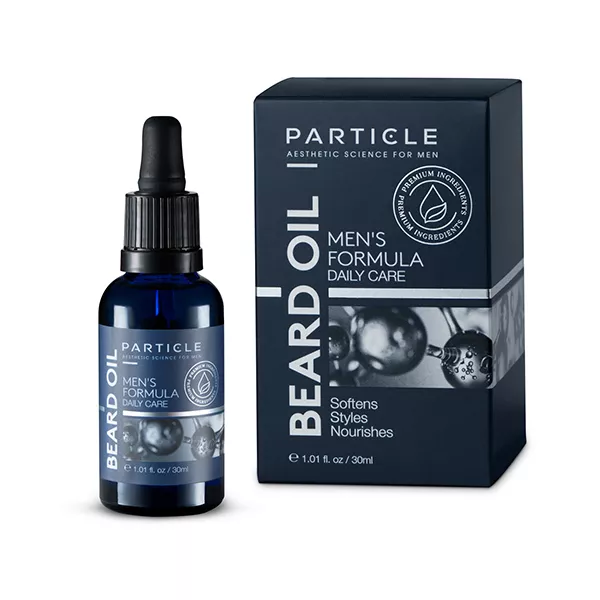 Softens, styles and nourishes your beard
Particle Beard Oil is a unique blend of 100% natural oils such as Avocado Oil, Apricot Oil, Argan Oil, Jojoba Oil, Hemp Oil and Castor Oil. It's your quick ticket to maximum hydration and shine, nurturing a fresh, healthy, well-groomed look that's sharp and soft all at once.
3Unités
€21
par unité (total €63)
Économiser: €21
2Unités
€24
par unité (total €48)
Économiser: €8
1Unité
Garantie de remboursement sur 30 jours

Livraison gratuite aux États-Unis /
9 $ à l'international
Softens, styles and nourishes
Eliminates itching
100% natural oils
Vital antioxidants and vitamins A, C, E
Ingrédients de qualité supérieure
Argan Oil

Prevents dryness and reduces itchiness
Nourishes the beard and reduces dandruff

Huile de jojoba

Promotes beard hair growth
Reduces breakage

Avocado Oil

Promotes a fuller beard
Soothes skin

Apricot Oil

Softens beard hair
Moisturizes skin under beard

Hemp Oil

Adds shine and moisture to beard
Strengthens beard hair

Castor Oil

Encourages facial hair growth
Strengthens hair roots

Vitamins A, C, E

Moisturizes and antioxidizes beard
Thickens facial hair
Mode d'emploi
Drip
Drip 3 – 4 drops of oil into your hand and spread on your fingertips and palms.
Massage
Work the oil into the beard and the skin of your chin and cheeks.
Style
To finish, groom and style your beard as usual.
My beard is much more styleable now. The smell is great and light.
Abraham Safed
42, Richmond VA
[*Individual results may vary]
Easy to work in, keeps my skin from itching. Beard is looking much less "wiry" than it used to.
Gregory Payne
52, Gainsville FL
[*Individual results may vary]
I love the way this oil makes my beard feel and the increased sheen of my facial hair.
Jeb Richman
38, Dallas TX
[*Individual results may vary]
This is my fav beard oil. It has a gentle aroma and makes my beard look nice and smooth.
Sam Winsler
55, Springfield IL
[*Individual results may vary]
My skin is normally sensitive to oils but this one feels great and even eliminates itching.
Seb Semper
30, New York NY
[*Individual results may vary]
faq
How is Particle's Beard Oil different from all the rest out there?

This beard oil does 3 actions - it softens, styles and nourishes. It's made of 6 natural oils and includes vital antioxidants and vitamins A, C, E.

How often should I use the beard oil?

For best results apply once a day.

Does it fit all beard types?

Absolutely, this oil fits all types of beards - square, round, oval or rectangular.

Combien de temps une unité durera-t-elle chez moi ?

One unit will last approximately 2-3 months.