Envío Gratis a Estados Unidos - Garantía de devolución del dinero por 30 días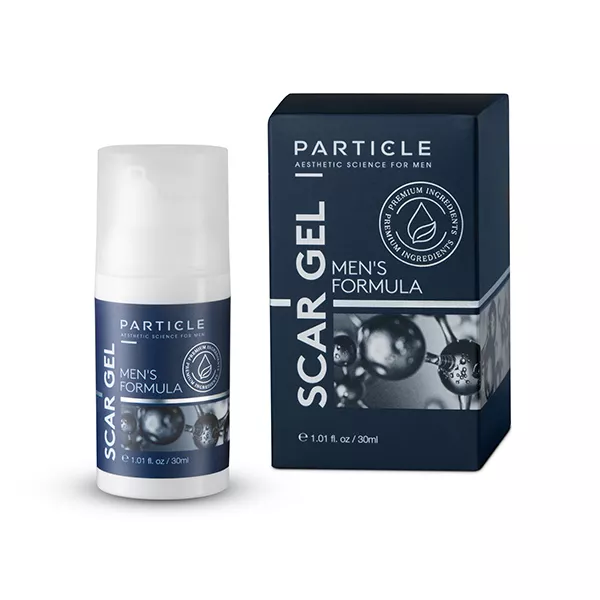 Particle Scar Gel
Silicone gel for acne scars, injury scars and surgery scars.
Particle's advanced silicone Scar Gel improves the overall appearance, color and texture of scars. It works on all types of scars, including acne scars, surgery scars, burn scars, cuts and other injuries.
3unidades
€19
por unidad (total €57)
Ahorrar: €24
2unidades
€22
por unidad (total €44)
Ahorrar: €10
1unidad
Garantía de Devolución del Dinero por 30 Días

Envío Gratis en EE. UU. /
$9 Internacional
Reduces appearance of acne scars, injury scars, surgery scars and others
Improves color and texture of scarred skin
Long-lasting effective silicone formula
Includes rich blend of oils and vitamins
Ingredientes Prémium
Argan Oil

Heals skin infections
Improves wound healing
Soothes atopic dermatitis
Treats inflammation

Aceite de jojoba

Softens rough cuticles
Has antibacterial properties
Improves skin texture
Speeds up cell regeneration

Avocado Oil

Accelerates wound healing
Heals dry and irritated skin
Increases skin elasticity
Helps create new connective tissue

Apricot Oil

Improves skin tone
Maintains softness and radiance
Rejuvenates skin
Softens and soothes

Vitamin C

Increases synthesis of collagen
Accelerates healing of skin

Vitamina E

Reduces skin damage
Keeps skin hydrated and calm
Cómo usarlo
Clean
Clean and dry the scar area.
Apply
Take a pea-sized amount and massage it onto the affected area until the scar is completely covered.
Absorb
Do not wash after application; allow the skin to absorb the gel.
Preguntas frecuentes
How does Particle's Scar Gel work?

Particle Scar Gel is made of unique silicone components combined with oils to penetrate the skin and increase cell regeneration.

How often should I use the scar gel?

Apply the gel for 12-16 weeks twice a day.

Does it fit all skin types?

Yes, the gel fits all skin types and colors and improves the overall appearance of scars.

¿Cuánto me durará una unidad?

One scar gel bottle will last approximately 3-4 months